FEBRUARY 1, 2022 – NEW VIDEO OF ARGO G-MAX
Argo G-Max contains in a single product, the perfect solution to meet all the needs of the customer who requires the best in his production.
Thanks to a great collaboration with our customers, today we can overcome the limits offered by the market, realizing your ideas.
MAY 10, 2021 – NEW VIDEO OF OLIMPIA
Finally the new video of Olimpia, the Greda machine dedicated to aluminum processing. A great example of product diversification, created by the great experience in technology of the working centers that Greda technicians have developed throughout their history. Good vision and stay tuned with Greda!
#makethedifference
MAY 2, 2021 – SPRINTER SPECIAL
A new model of Sprinter even more performing for the needs of our customers. Watch the video and do not hesitate to contact us for more information.
MARCH 23, 2021 – PASSION TAKES SHAPE
Passion takes shape with the splendid bust created by Fratelli Minen Srl exploiting the potential of Mitika. An example of what woodworking industry can represent and what other materials are not able to share. Art and creativity, perfection and originality, a mix of ingredients that Greda machines are able to create with high technology at the service of the carpentry.
#makethedifference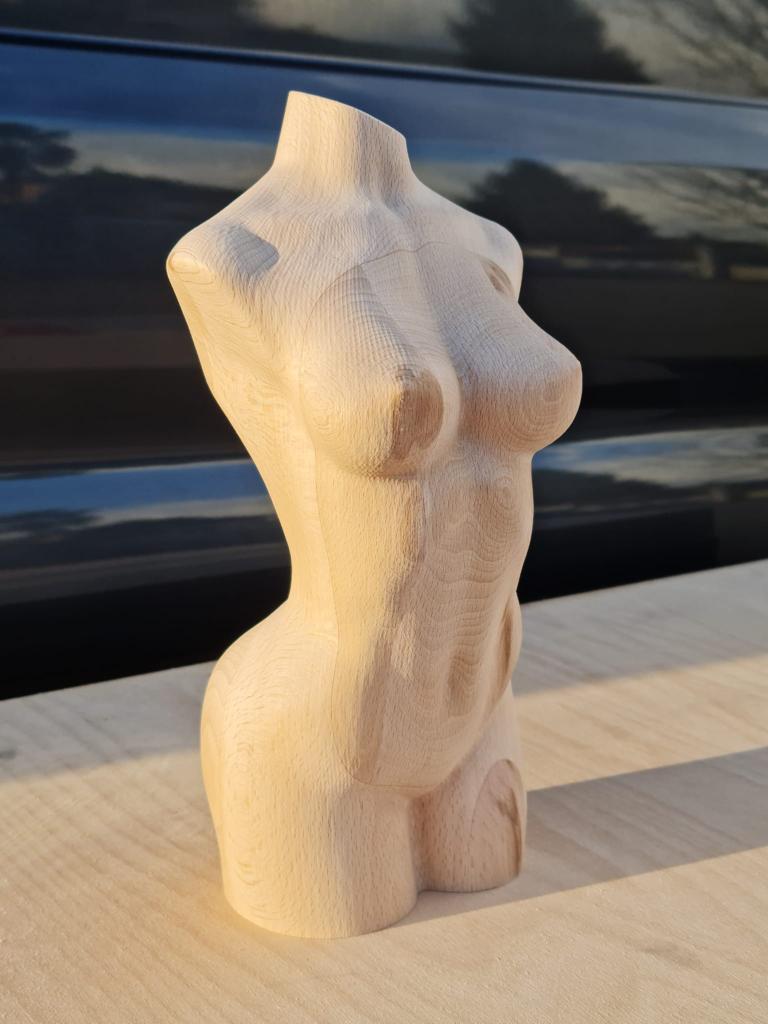 FEBRUARY 24, 2021 – A 40 YEAR HISTORY
Another surprise for our readers, a celebratory video of all the most significant machines that have marked the 40 year history of Greda.
Old and modern photos, together in a mix of people and mechanics that shows the continuity of a Lombard entrepreneurial reality, symbol of an Italian manufacturing fabric that is still strong and increasingly technological
Good vision!!
FEBRUARY 22, 2021 – THE TRIPLE INTERVIEW OF THE DASCHINI'S FAMILY
For the 40th anniversary of Greda, we have organized a triple interview with the great protagonists of Mariano Comense's company. The Daschini family with Nicola, Piero and Marianna answer to the questions that are sometimes funny and sometimes more serious and once again shows the great human resources that Greda has developed over the years.
Human resources but also great technology and presence on international markets and let's not forget the great trust with historical suppliers and an intense and collaborative relationship with dealers and end customers.
This and much more in the triple interview we made for this wonderful anniversary. Have fun with our video!!
FEBRUARY 15, 2021 – FORTY YEARS OF GREDA
The forty-years anniversary of Greda is just around the corner, a story full of successes and satisfactions.
A celebratory logo has been developed for the occasion, a small sign but full of meaning.

Obviously it will not be the only surprise we have prepared to celebrate this important birthday in the best possible way.

Stay tuned to our web and social channels to stay updated on everything related to Greda…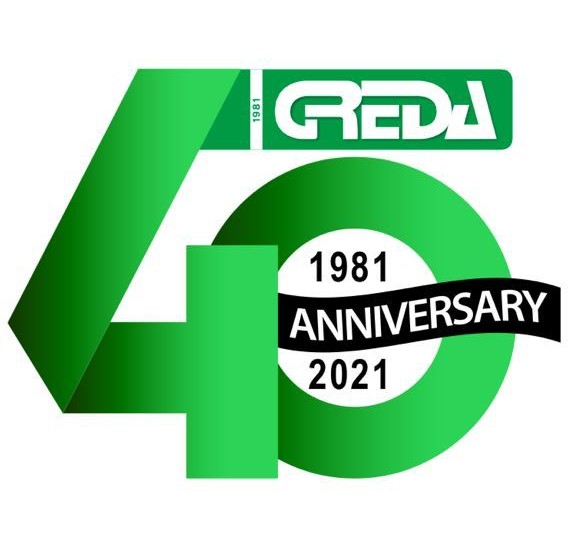 SPIRIT CN, FOR 20 YEARS ON THE MARKET
For over 20 years we have been producing Spirit CN, a adaptable machine that is increasingly precise and characterized by high performance in terms of productivity.
SPIRIT CN is a mini machining center with two interpolated axes designed to perform head workings at 45°and 90° as well as working along one side of the piece (multiple mortising, milling and drilling) on doors , frames, as well as elements of chairs, doors, windows, in solid wood or coated MDF.
A compact machine that takes up little space in the factory and is very interesting for the American market characterized by a massive production of "cabinets". Thanks to the action of our official dealer Stiles Machinery, we want to offer our best solutions to the needs of US customers.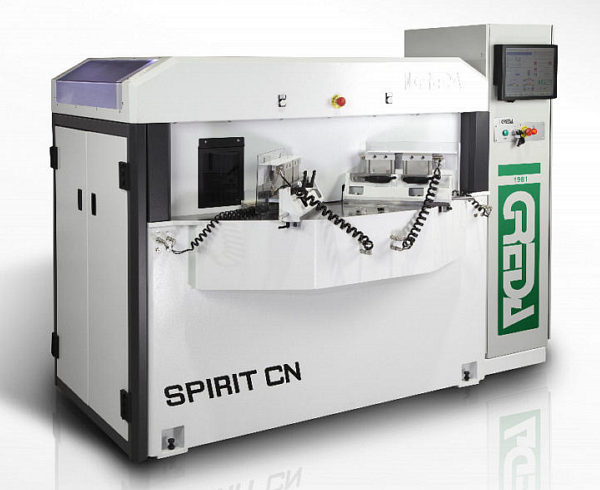 Greda annually organizes Greda Labs, an open door event where the company opens its doors to customers and resellers and more, to make known the new technologies developed, as well as the programming software that accompany the work centers.
This event is enriched by tests and simulations, as well as seminars held by university teachers who deal with cutting-edge topics to make the most of digital-based stereotomy for the wood and related sector.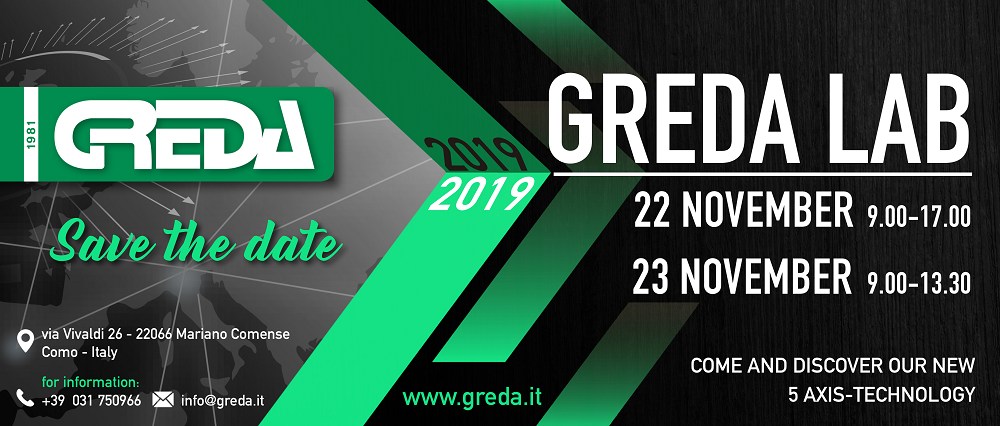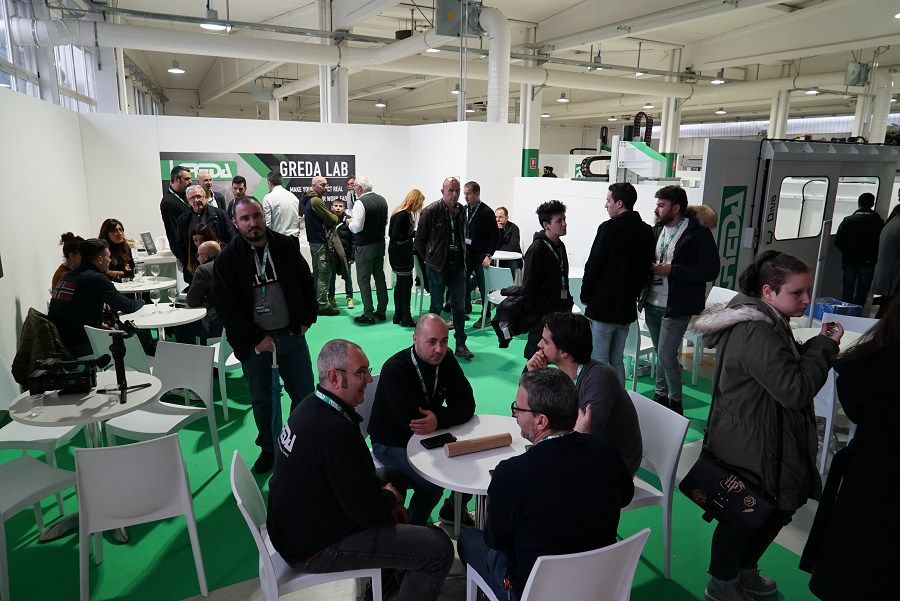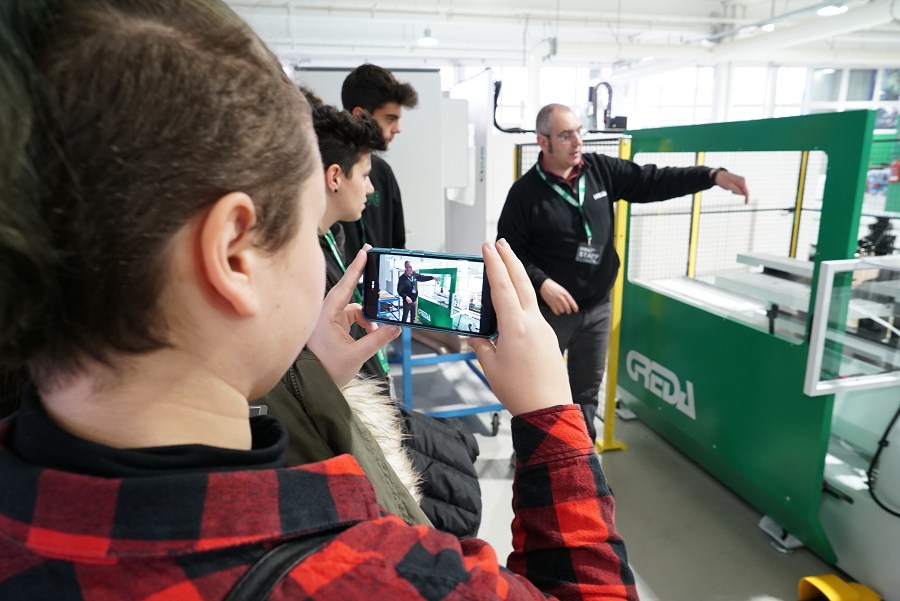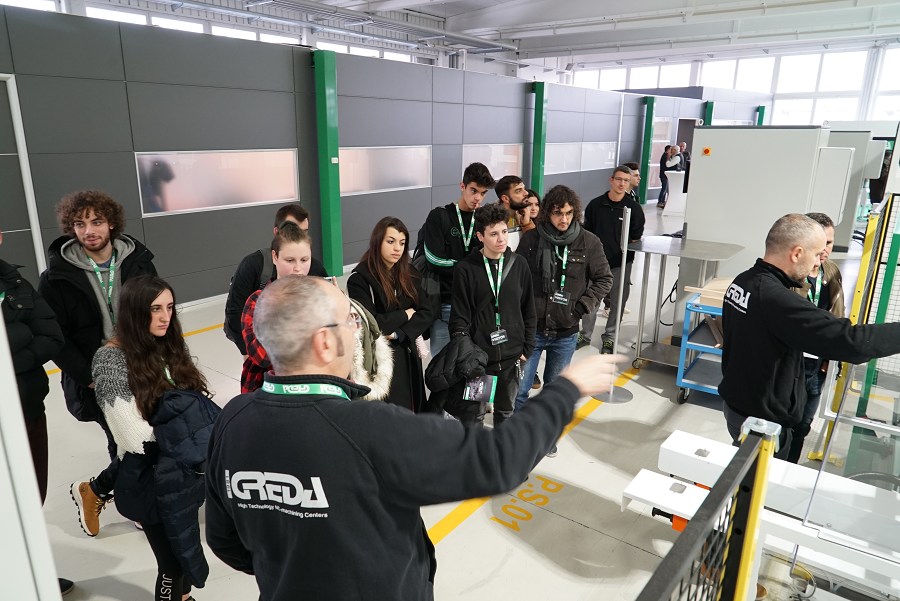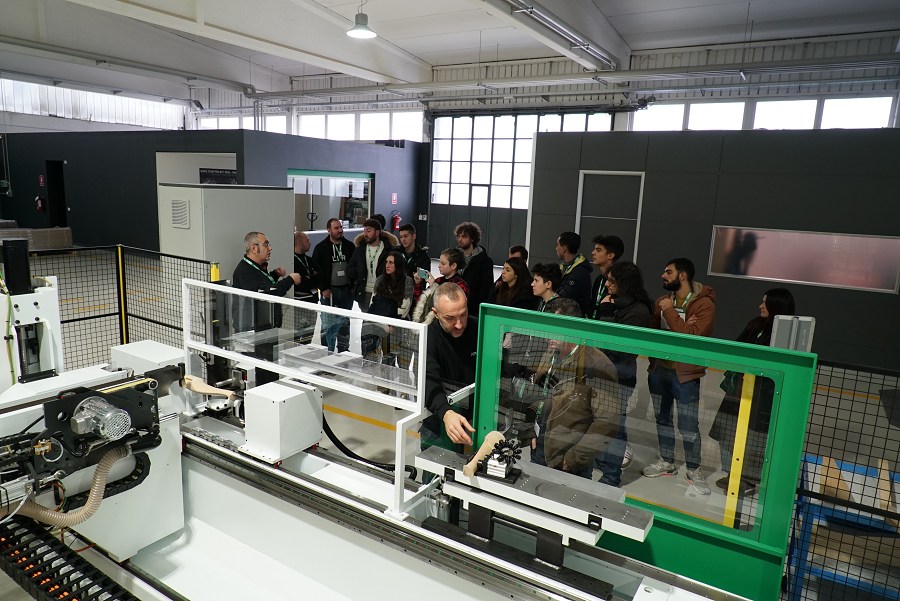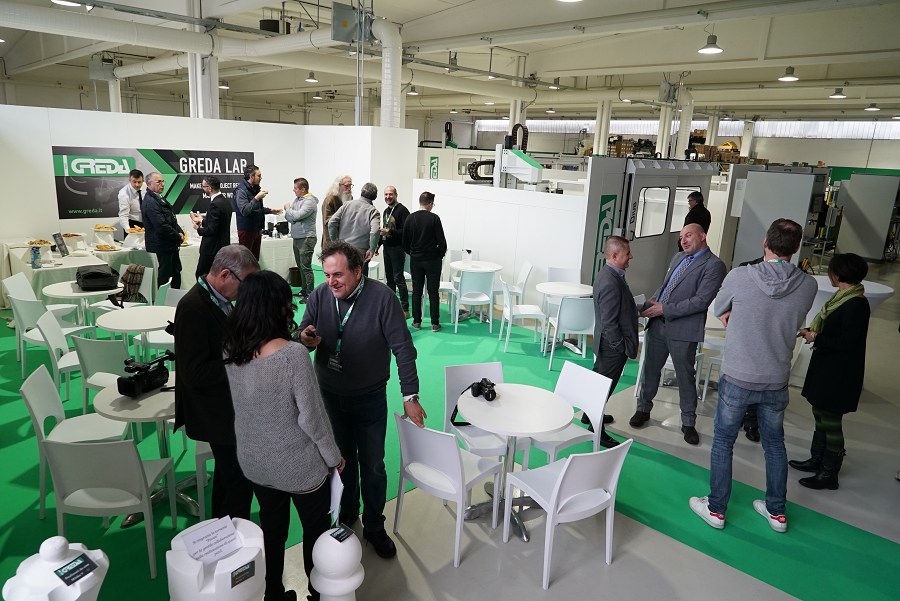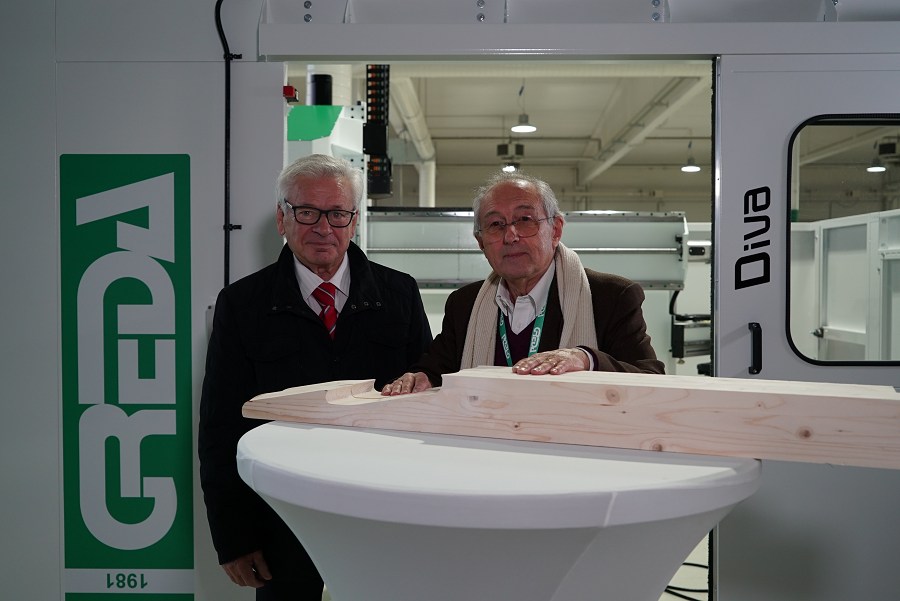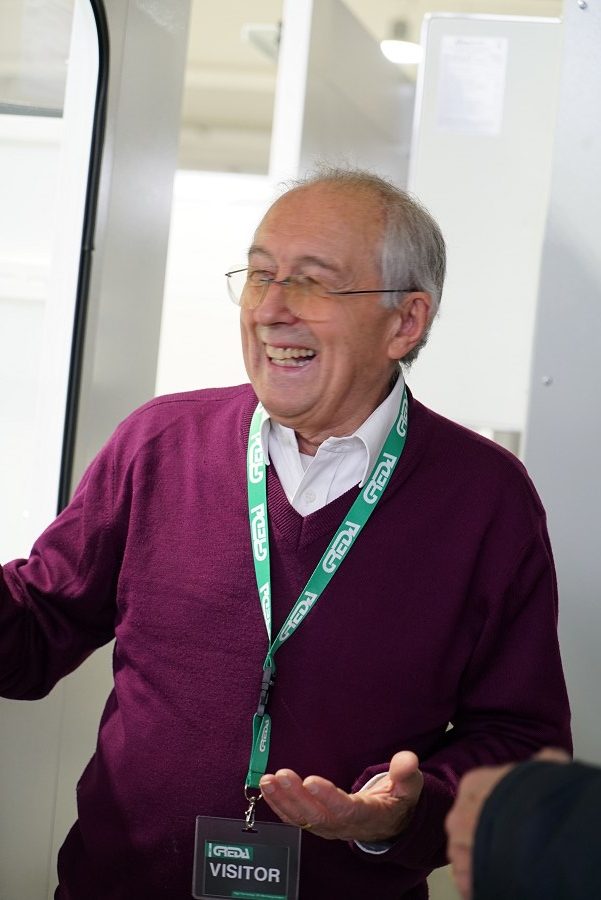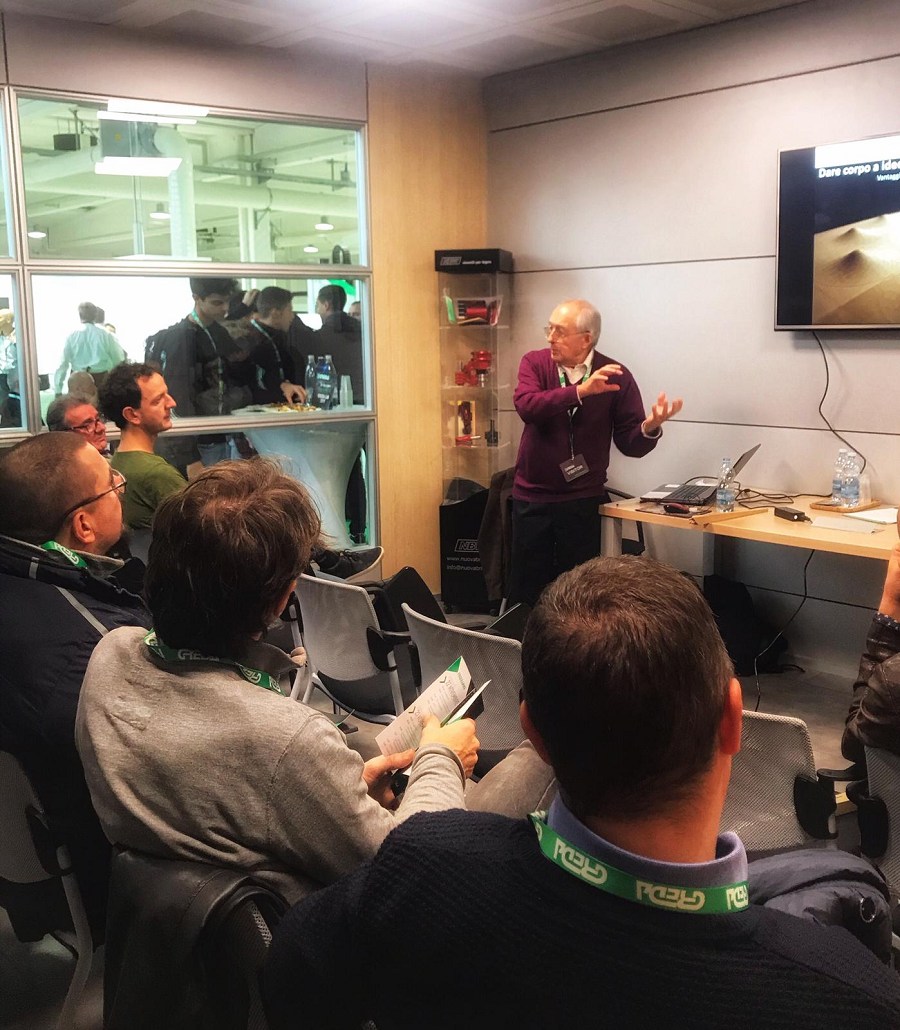 Marianna Daschini, Vice-President of Acimall Association and CEO of co. Greda srl – High Technology NC-Machining centers, meets Mrs Barbara Colombo, President of UCIMU Association and CEO of co. Ficep Spa, during her visit to 32nd edition of BIMU.
The ideal chance to share opinions and points of view between entrepreneurs, representing two very important sectors for the Italian manufacture: Technologies for wood working and machine tools.

.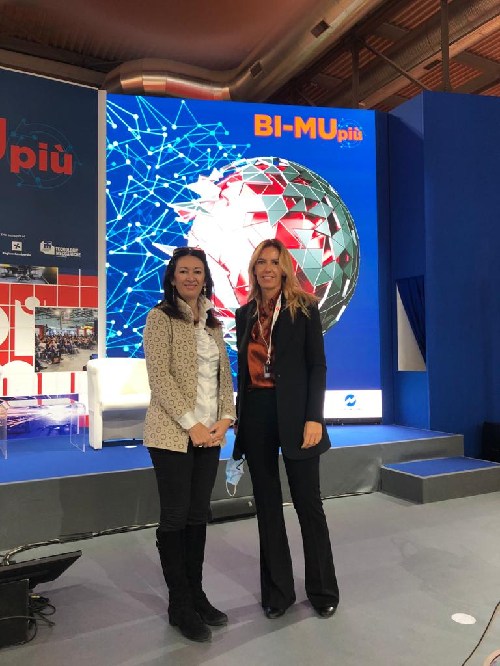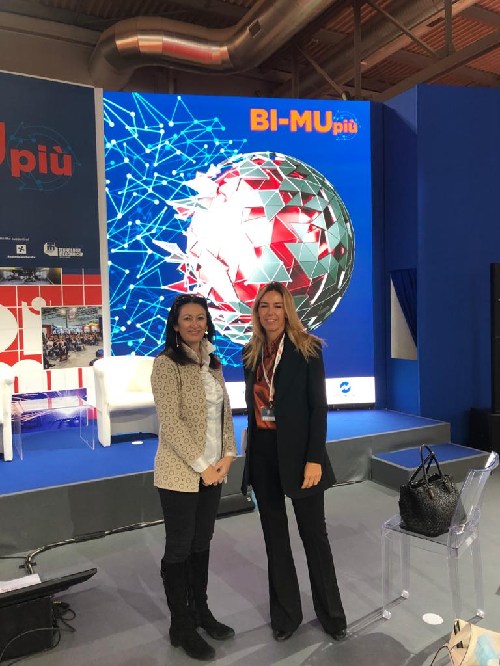 GREDA AND ACIMALL A STRONGER COOPERATION
Congratulations to Marianna Daschini, appointed to Vice-President of Acimall for the 2020-2023 period. In the picture together with the new President, Luigi De Vito of SCM Group, and the outgoing President, Lorenzo Primultini.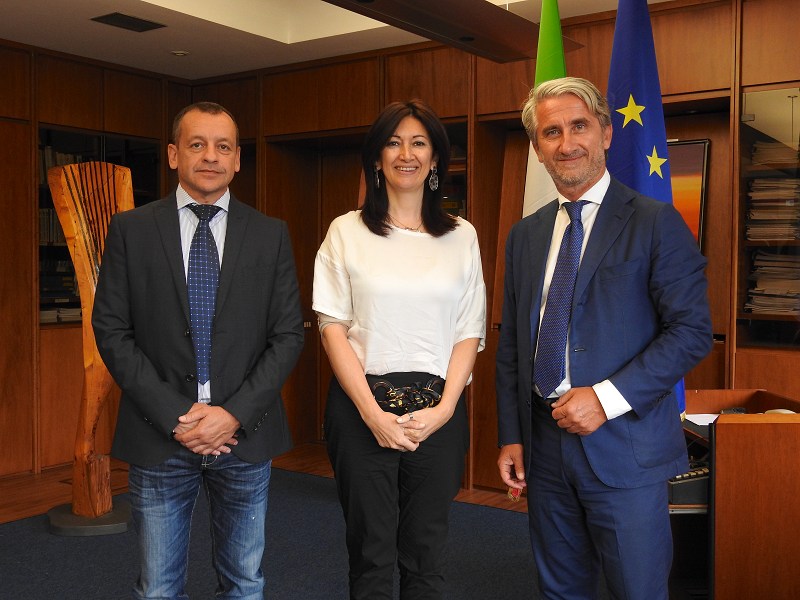 Greda spreads culture 4.0, thematic webinars on machinery, training, software and much more.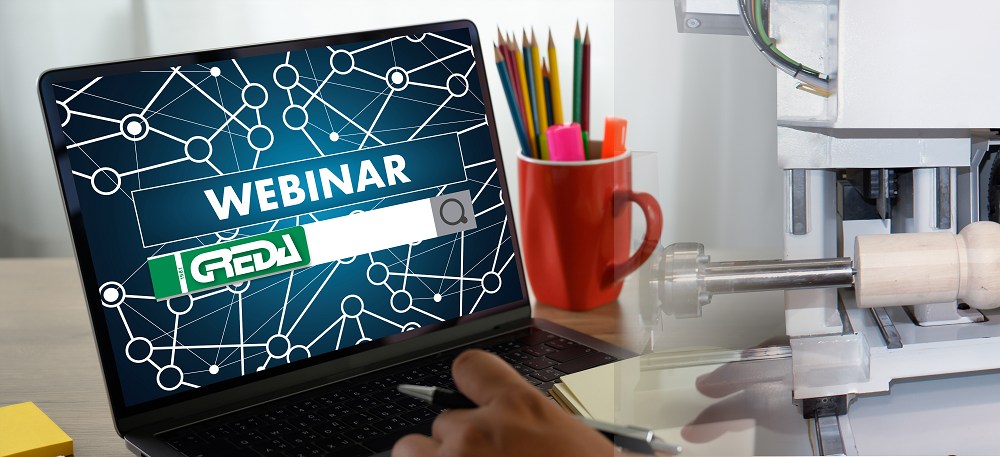 Greda spreads culture 4.0, thematic webinars on machinery, training, software and much more.